Paul and Pippa Organic biscuits
Charming Organic biscuits from Barcelona. Paul and Pippa is a family of friendly people who love natural things. Who wants to eat artificial fat, colourings and sweeteners? Paul and Pippa don't and neither do you. This is why they've come up with some delicious homemade biscuits that are healthy, 100% natural and organic too.
Sweet Crackers
All the flavours come in either a box of 80g or a tube of 125g
Coconut Valley
Lime after Time
Me and Grandma
Cocoa Chips
Lady Carrot Cake
Savoury Crackers
All the flavours come in either a box of 80g or a tube of 125g
Cheese Me
Tomato Bravo
Olive Party Time
Don Manchego
Goulibeur
Broye du Poitou is a traditional galette (butter cookie) made only of high quality natural ingredients. It is absolutely divine…
Goulibeur
traditional range
Croc'Sucre Tradition 35g


Croc'Sucre Lemon and ginger 35g
Croc'Sucre Chocolat 35g
Croc' Sale tomato (12 savoury crunchy tomato, onion & basil biscuit)
Croc' Sale Cheese (12 savoury crunchy sheep cheese)
Croc'Sucre Chocolate – 120g
Mini Galettes (bag of 25) – 125g
Croc' Cafe mini galettes (200 unit box)

Goulibeur The Eco-box

Croc'Sucre Tradition -150g
Croc'sucre Lemon and ginger – 150g
Goulibeur gift range
Gift Tin box – 6*2 galettes
Gift Tin box – 8 Christmas tree galettes
Gift Tin box – 8 heart shape galettes
Large galettes in luxurious tin box collector -380 g
Large galette in History Gift box – 360 g
Pure butter Broye du Poitou topped with flaked almonds in wooden box
Pure butter shortbread fan shaped – wooden box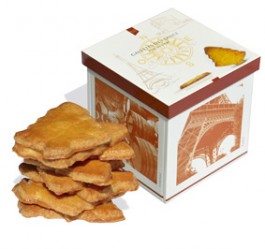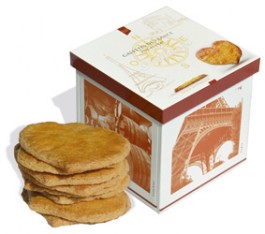 Other iconic French biscuits
The Choco BN is a traditional French afternoon tea since 1933. It comes in many flavours, chocolate, vanilla, strawberry, raspberry, hazelnut and milk chocolate.
The other celebrity in the French biscuit aisle is Le Petit Ecolier (the Little Schoolboy), made with a slab of chocolate over a  butter biscuit. This tradition started in the 1850s and is still a success today.