Dolfin Chocolates from Belgium
For decades, Dolfin's philosophy has been to mix natural, high quality ingredients directly into the chocolate mass. Fruits, spices, herbs, flowers or even the great classics are combined in perfect and subtle blends with the best traditional chocolates.
With gorgeous packaging, they make perfect items for gift baskets. The range of product come in different sizes.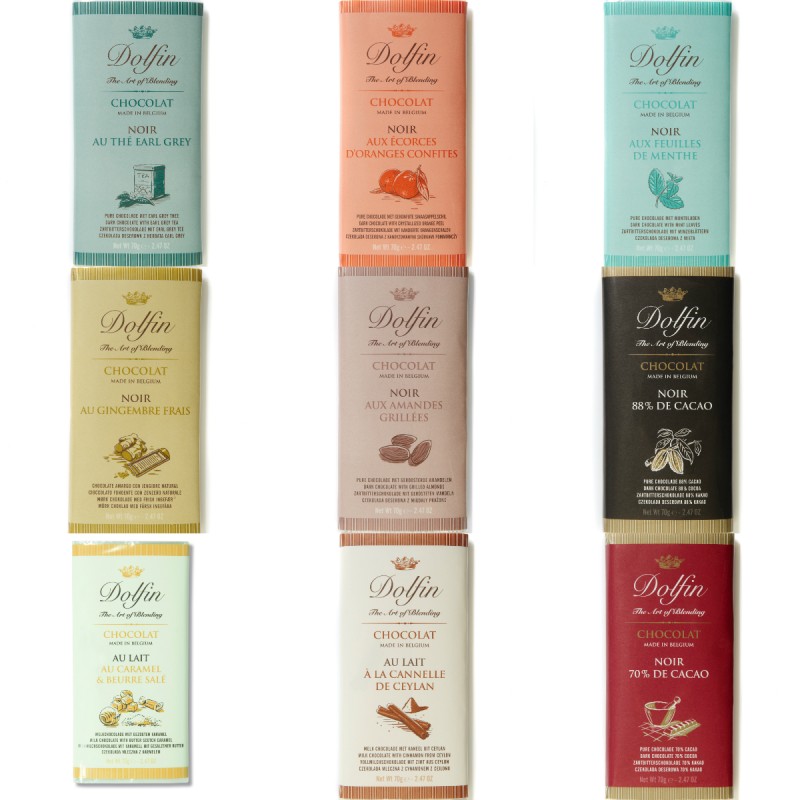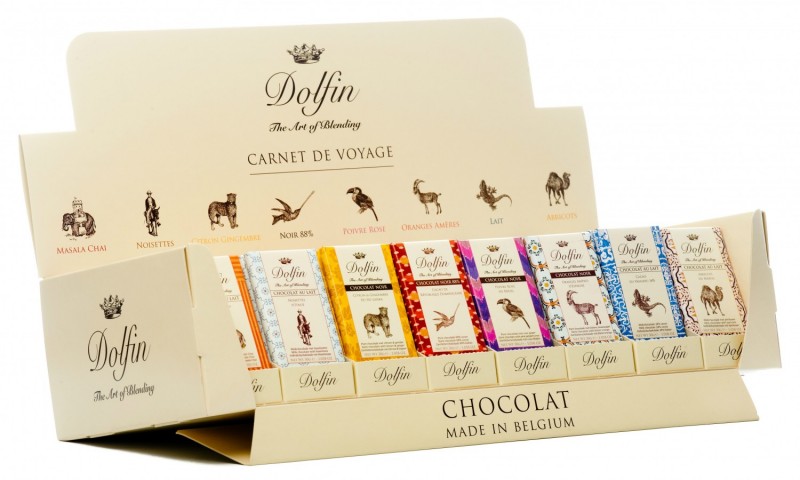 Rocher Suchard
The Rocher Suchar is a French tradition, a delicious praline heart coated with chocolate and nuts and coated again. it comes either in coated with dark chocolate or with milk chocolate. Either way it is an absolute decadent treat.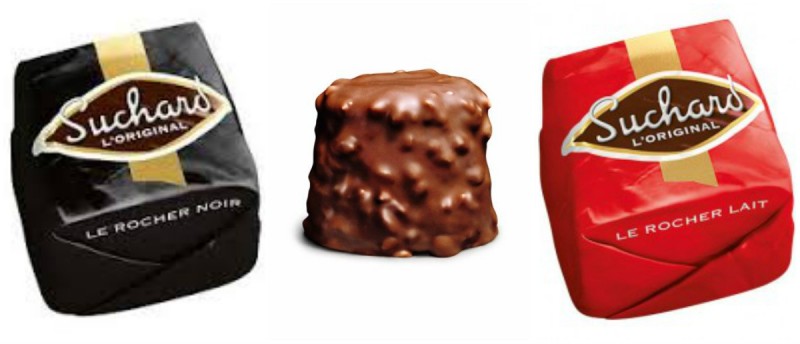 Monbana Chocolates
Monbana was started in 1934 by Louis Guattari and is still a family owned business held by the same family. The company has evolved from being the specialist of chocolate powder to now the world leader of Neapolitans, with a production of 1.5million per day. The company has grown from 15 people in 1985 to 300 in 2007. Monbana is the chocolate specialist with an expertise ranging from the production of chocolate powders to the creation of delicious chocolates and confectionery.
Milkshakes
Latest addition to the Monbana family are the Milkshakes.Easy to prepare in 20 seconds in a blender. The flavours are
strawberry
vanilla
chocolate
mocha
caramel
mango
passion fruit
lemon
lychee
plain yoghurt to flavour yourself.

Chocolate treats in a tin
Almond – Chocolate coated & glazed almond
Mayenne nuggets – Raisins coated in dark, milk or white chocolate
Coffee plus – Chocolate coated coffee beans
Praline – Praline coated with chocolate & cereals
Crousti-Neige – Crispy cereal coated in milk & coffee flavoured white chocolate
Mini hospitality biscuits, chocolates or nougats
Perfect products to compliment a cup of coffee. The special attention that will please your customers. Each box contains either 200 or 1000 pieces individually wrapped.
Mini cookies
Galets Breton
Amaretti
Lemon Palets
Nougat
The Coated Almond
The Pralinéa
The Crousti-Neige
Speculoos nugget
Neapolitans chocolate squares – Come in various flavours
Liquor chocolates
High quality chocolates filled with famous liquors, like Cointreau, Grand Marnier, Pear William, Raspberry liquor, Rum, Champagne, and Cognac.
Strip of 7 chocolates
Assortment box 400 units
Chocolate powder
Monbana is the French specialist of drinking chocolate. Over the last 80 years they have been developing amazing flavours. the powder come in beautiful 250 tins as well as in single serve sachets. The various flavours are Vanilla – Orange – Almond – Cinnamon – Spice – Caramel – Hazelnut Speculoos – Tiramisu – Christmas Gingerbread, and there is also a traditional  32% cocoa.

Single flavour chocolate slab
Almond bar – Dark chocolate with almond
Strawberry bar – Dark chocolate with Strawberry
Cranberry bar – Dark chocolate with Cranberry
Blueberry bar – Milk chocolate with Blueberry
Hazelnut bar – Milk chocolate with Hazelnut
Apricot bar – Milk chocolate with Apricot
Mathez Chocolates Truffles
The chocolaterie Mathez is a specialist of fine dusted French truffles since 1934. It is a major reference in the truffle industry in France and overseas thanks to the high quality products they offer.
There are several ranges available in New Zealand:
The Diamond collection with boxes of 100g or 200g
The J'M collection, boxes of 100g
The Sweety collection, boxes of 250g
Les Parisiens, gorgeous metal tins of 200g
Those truffles come in various flavours: Plain original truffles, Orange, Toffee, Praline, Lemon Meringue, Cookies, Cocoa Beans, Strawberry, Raspberry, Chili, Popping Candy, Macaron.